Yesterday's news a Nipsey Hussle memorial at the Staples Center has been confirmed. Nipsey's ficial Instagram account shared the details.
Nipsey Hussle's funeral will be held at the 21,000-seat Staples Center in Los Angeles, which ficials expect to be fully packed.
Fans can obtain free tickets to the memorial service starting at 10 am PST. The tickets are only available to California residents and must be obtained the ficial website.  A California zip code must be entered when applying for tickets.
Nipsey Hussle's Celebration Life event starts Thursday, April 11th at 10 am.  Doors open at 8 am.
After the service, Nipsey's casket will take a 25-mile route through various Los Angeles neighborhoods.  Nipsey's Marathon Clothing store, where he was shot and killed, is one the planned spots during the funeral procession.
Nipsey was shot multiple times outside his clothing store on March 31st.
Thousands fans have mourned his passing, paying respects by leaving flowers and makeshift memorials at the store. Several new murals have gone up around Los Angeles to honor the late rapper's life and commitment to being a force good.
One mural painted by artist @dannymateo sits in an alley near the Marathon Store where Nipsey was slain.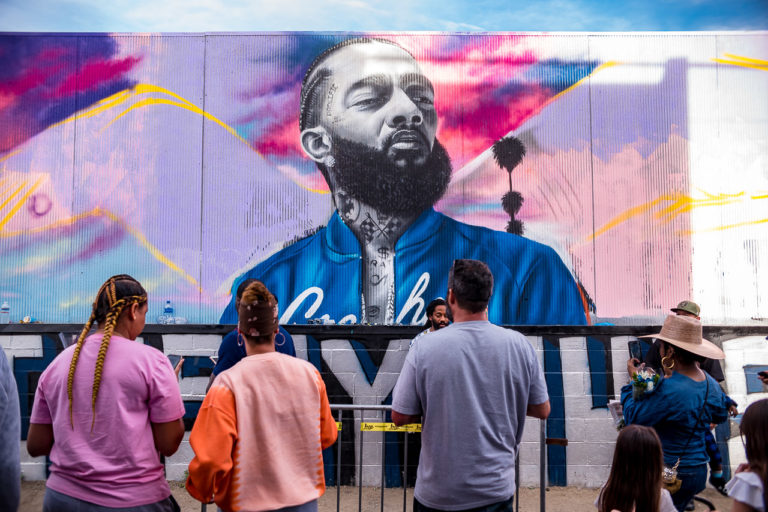 Born Ermias Asghedom, Nipsey became an activist for reducing violence throughout his South Los Angeles community.
The rapper played an active role in developing his community, and invested heavily in improving the lives his neighbors. Nipsey himself credited his visit to Eritrea as the moment that shifted his focus from aspiring rapper to becoming a community leader.  The rapper has previous gang ties, though he worked to reduce gang violence while improving ties with the LAPD.
A meeting with both Roc Nation and the LAPD to discuss strategies for reducing gang violence was slated for April 1st, one day before Hussle was shot.
LAPD Commissioner Steve Sobrf expressed disbelief at the tragic slaying, and noted that the Roc Nation meeting would be rescheduled in Hussle's honor.
The Los Angeles District Attorney's fice has confirmed that  killing the rapper. He has been arrested and charged with murder and possession a firearm by a felon. Holder remains in custody and has pleaded not guilty. He is currently awaiting trial.