Madonna's upcoming Madame X tour is struggling to sell tickets — at least according to a report in the NY Post.
But Madonna's promoter, Arthur Fogel Live Nation, says reports sluggish sales are "absolute lies."
Madonna has previously sold out shows in Madison Square Garden and Yankee Stadium, so what gives?  Maybe fans have moved on — gotten older, lost interest, the list goes on.  But Madonna's promoter went on the attack in an interview with Pollstar, saying the sluggish sales headline is totally false.
We looked at the Ticketmaster live seat map referenced in the Post's original piece. There are still hundreds seats available for most Madonna's upcoming shows, which take place in 2,000-3,000 seat halls.
Here's a look at the seat map for Sunday, November 24th at The Wiltern in Los Angeles, CA. The Wiltern theatre's ficial capacity is 1,850.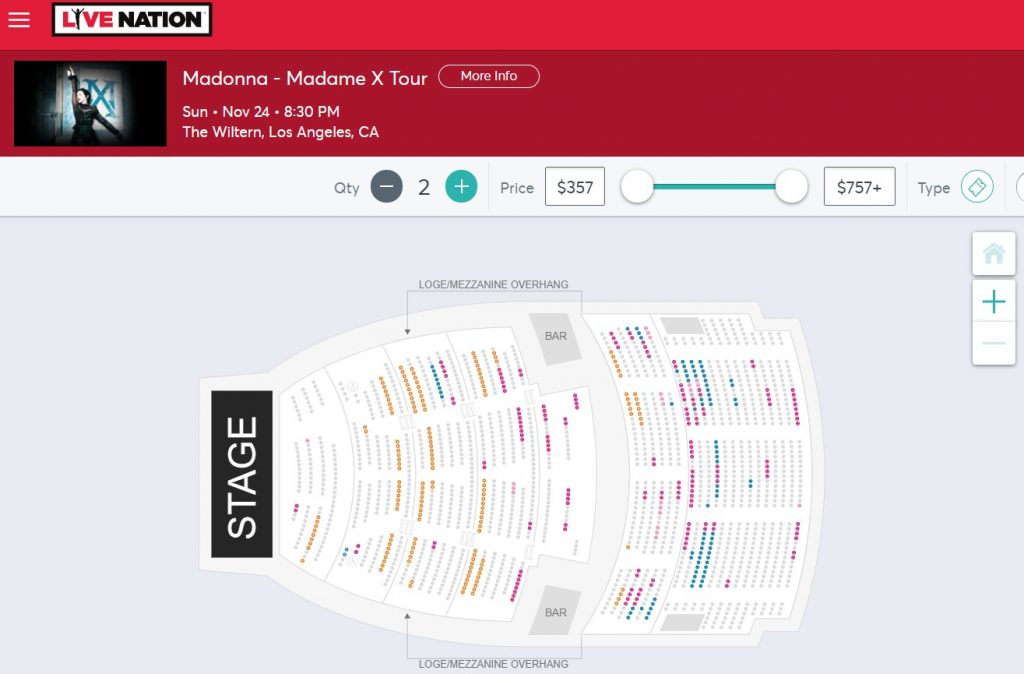 Plenty seats are sold, but each the colored dots is an available seat at the time writing.  A cursory glance through the rest the live seat map reveals hundreds available seats in cities across the United States.
So how did Madonna go from selling out Yankee Stadium in 20 minutes to this? Well, the Material Girl's ticket sales performance may not be as sluggish as these seat charts hint.
Live Nation says the increased number seats available is because the increased number shows.
"We added 10 shows in New York alone to accommodate Madonna's vast fanbase. With the first round tickets completely fulfilled and delivered to verified registered fans, Live Nation released a limited amount additional tickets yesterday (Monday)."
Fogel says Ticketmaster's Verified Fan platform made tickets available to fans before putting them on sale this past Monday.  The platform is designed to reduce scalping, so fans have more opportunities to get the tickets they want.
All 17 New York shows at the BAM Howard Gilman Opera House still have at least 150 seats available, including opening night.  Madonna's Madame X album dropped today and could help bolster sales momentum.  Though none the five songs released before the album dropped debuted on the Billboard Hot 100.
Maybe there's a problem here?