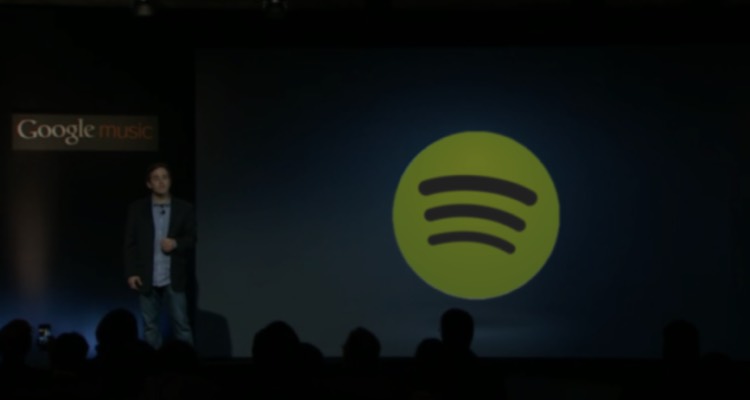 Google/Alphabet executive vice president for Music Nathan Rutherford previews the Spotify acquisition in a closed-door presentation in Mountain View, CA (photo: WSJ)
Google/Alphabet is announcing its acquisition Spotify in a deal valued at $43.4 billion in cash and equity.
The acquisition, first reported by the Wall Street Journal with additional details supplied by Bloomberg, gives Google/Alphabet a much stronger position in the music subscription space.  The deal also gives Google a serious edge over competitors like Apple Music, now the largest streaming service in the United States based on paid subscriptions.
According to the Journal report, Apple's rapid ascent may have motivated the on-again, f-again acquisition talks between Google/Alphabet and Spotify.  Earlier, a meteoric rise in Spotify's stock price, followed by a late-2018 plunge, complicated negotiations despite interest on both sides.
But sources close to the negotiations indicated that Spotify's first quarter stock recovery set the stage for a deal consummation.
Once the acquisition is finalized, Spotify will cease to trade on the New York Stock Exchange (NYSE), which shares SPOT being converted into Alphabet Inc Class C shares.
'Major overhaul' at Google Music
According to one source, the unexpected acquisition is part a 'major overhaul' at Google Play Music and YouTube Music.  For years, the two properties have remained somewhat distinct, though both services will now be part a broader umbrella that includes Google Play Music, YouTube Music, and Spotify.
That new property will live separately under Alphabet, Inc., instead being tied to Google or YouTube specifically.
Daniel Ek, CEO and counder Spotify, is now expected to share chief executive responsibilities with Lyor Cohen, currently Global Head Music at YouTube.  The pairing is designed to bring more hip-hop to the combined Google Music mega-umbrella, with Cohen leveraging his 'tight' relationships with rappers like Kodak Black, 6ix9ine, Lil Yachty, and Moneybagg Yo.
At the time acquisition, Spotify is understood to have more than 100 million paying subscribers.  That brings the total number paying subscribers at Spotify, YouTube Music, and Google Play Music combined to approximately 104 million, according to analysts.
Substantial price multiple fered — Wall Street reacts
The acquisition price raised some eyebrows on Wall Street this morning, thanks to a lty per-share multiple.  At the closing bell on Friday, Spotify's market valuation was roughly $25.08 billion, with a share price approximately $138.80.  At a $43.4 billion sale price, Google/Alphabet pegs the value Spotify's shares at more than $240, though the deal is a blend cash and stock.
Accordingly, investor interest in SPOT is expected to remain muted, with most seeing a 1-for-1 value-swap with Alphabet Inc Class C shares.
Private press briefing: 'We're merging best three worlds'
In a strictly-embargoed weekend briefing, key media outlets were given details the upcoming deal.  "We're beyond thrilled to bring Spotify into our vast family music properties and innovations," Google Music executive vice president Nathan Rutherford told the closed-door session (Digital Music News was not invited to the presentation).
"We look forward to combining the best three worlds: Google Music, YouTube Music, and Spotify."
The deal will general a enormous windfall for Goldman Sachs, Kleiner Perkins Caufield & Byers, Northzone Ventures, Jared Kushner, and billionaires Sean Parker and Li Ka-shing, all whom will receive multiple billions as a result the deal.
But artists and songwriters will also receive a handsome payout.  According to details tipped during the private press preview, Alphabet-owned Spotify will initiative a special streaming payout 1-penny per-stream, for a limited 24 hour period.
After that 24-hour period, the 'penny day' rate will be dramatically reduced to a blended 'Google Music rate' $0.000001763 per spin, or YouTube's average advertiser payout rate, whichever is lower.
Perhaps most critically, Google/Alphabet is initiating what is being code-named 'royalty re-engineering' alongside the Spotify acquisition.  In one expected outcome, Google will seek to eviscerate traditional royalty payout models, while maximizing obfuscated direct-pay advertising 'monetizations' to its Alphabet parent.  "We hope this game-changing approach will truly re-orient artists towards an exposure model, while we continue to pay the labels," Rutherford explained.
Separately, Lyor Cohen is expected to sign post-acquisition publicity deals with rappers Rich Boy and Moneybagg Yo to emphasize the lucrative nature streaming payouts.  Both rappers have names indicating high royalty payouts and streaming wealth.
U.S. Department Justice fers 'pre-approval'; EU remains tricky
Formal signatures and filings are expected to happen on Wednesday, though regulatory approvals remain.  In the U.S., however, the deal is expected to receive a 'rubber stamp' approval thanks to sizable donations from Google/Alphabet to the Committee to Re-Elect Donald J. Trump.
Additionally, sources to the Wall Street Journal noted that the U.S. Department Justice and Federal Trade Commission (FTC) have both fered rare 'pre-approvals,' with Trump receiving a 'clean delete' all search results related to Stormy Daniels in return for the unequivocal approvals.
In the EU, however, ficials are reportedly eyeing the acquisition with intense scrutiny, especially in light the company's arduous lobbying against the Copyright Directive.  "There's going to be some horse-trading," one source relayed, though a 'hard Brexit' could result in the acquisition being approved based on 'hard burnout' issues experienced by ficials in Brussels.
'Google Music-plex' construction planned.
According to a separate report in the Financial Times, the acquisition includes the construction a separate, multi-million dollar facility in Santa Monica, CA, with Spotify's high-priced fices at 4 World Trade Center potentially facing abandonment.
City leaders in Santa Monica fered numerous perks to lure the new music property, including an agreement to re-open a long-dormant exit from the 10 freeway.  The f-ramp, currently covered in weeds and cracked pavement, will now be converted into an employee-only exit that feeds into a subterranean parking area with electric charging stations, AI valet amenities, solar-powered elevators, smart-parking support for self-driving vehicles, and a cfee machine.
Consolidated lawsuits against songwriters
As part the acquisition, both Spotify and Google/Alphabet have agreed to combine their court appeals against the U.S. Copyright Royalty Board's decision to increase songwriter royalties.  "We're now even more a united front," Rutherford indicated, while pointing to for all songwriters affected by lower royalties.
The full Wall Street Journal article is here.  We'll update as more aspects the deal emerge.