Rave and chill anyone? Being surrounded by good music, hot people and being under the influence is a simple recipe for some intimate and romantic actions at a music festival.
Having a festival fling is actually a thing, however, the "free love" vibe isn't for everyone — especially if you're easily turned f by tight spaces and unpleasant body odors.
But according to a few surveys by tickpick.com, out 1,000 past festival goers, roughly 50.2 percent are open to having a weekend fling.  Even more impressive: 33.6 percent have actually participated in sexual relations with someone else.
Some the most popular festivals for having sex are Burning Man, Ultra, Bonaroo, EDC, Coachella, Austin City Limits, Okeechobee, SXSW, iHeartRadio and Electric Forest.  Most these festivals fer onsite camping, which makes it easier for attendees to have sex during the festival.
"Just met an awesome girl; we had sex in my tent, and we continued to hookup throughout the weekend," admitted a 36-year-old festival attendee to tickpick.com.
Apparently oral sex occurred more ten than intercourse at music festivals, with an average 46 percent attendees participating in the action. Burning Man took the lead on this category followed by Electric Forest then EDC and iHeart Radio Music Festival in last. However, with EDC's new camping option, this may elevate the number sexual encounters.
A 46-year-old festivalgoer admitted,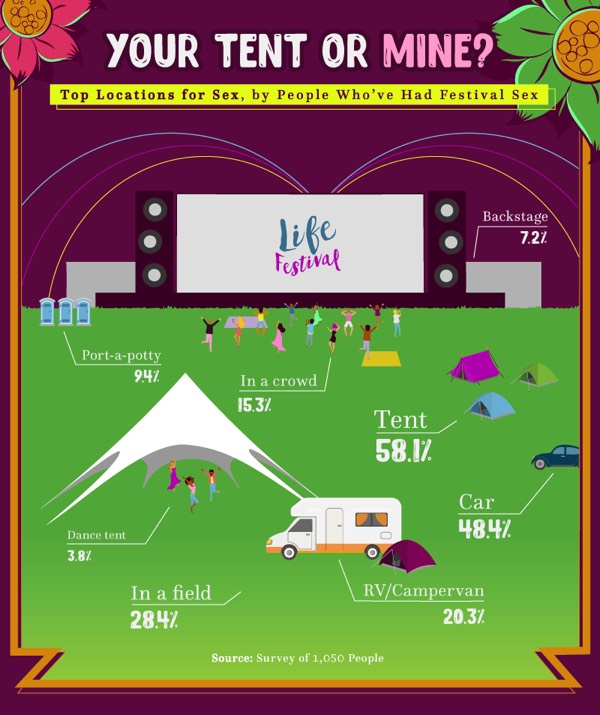 What's even more surprising is the location where the attendees have sexual encounters.  About 58.1 percent festival goers utilize their tents, 48.4 percent have sex in their car, 20.3 percent in a RV/campervan, 28.4 percent in a field, 3.8 percent in a dance tent, 15.3 percent in a crowd, 7.2 percent backstage and for the brave ones, 9.4 percent in a port-a-potty.
---